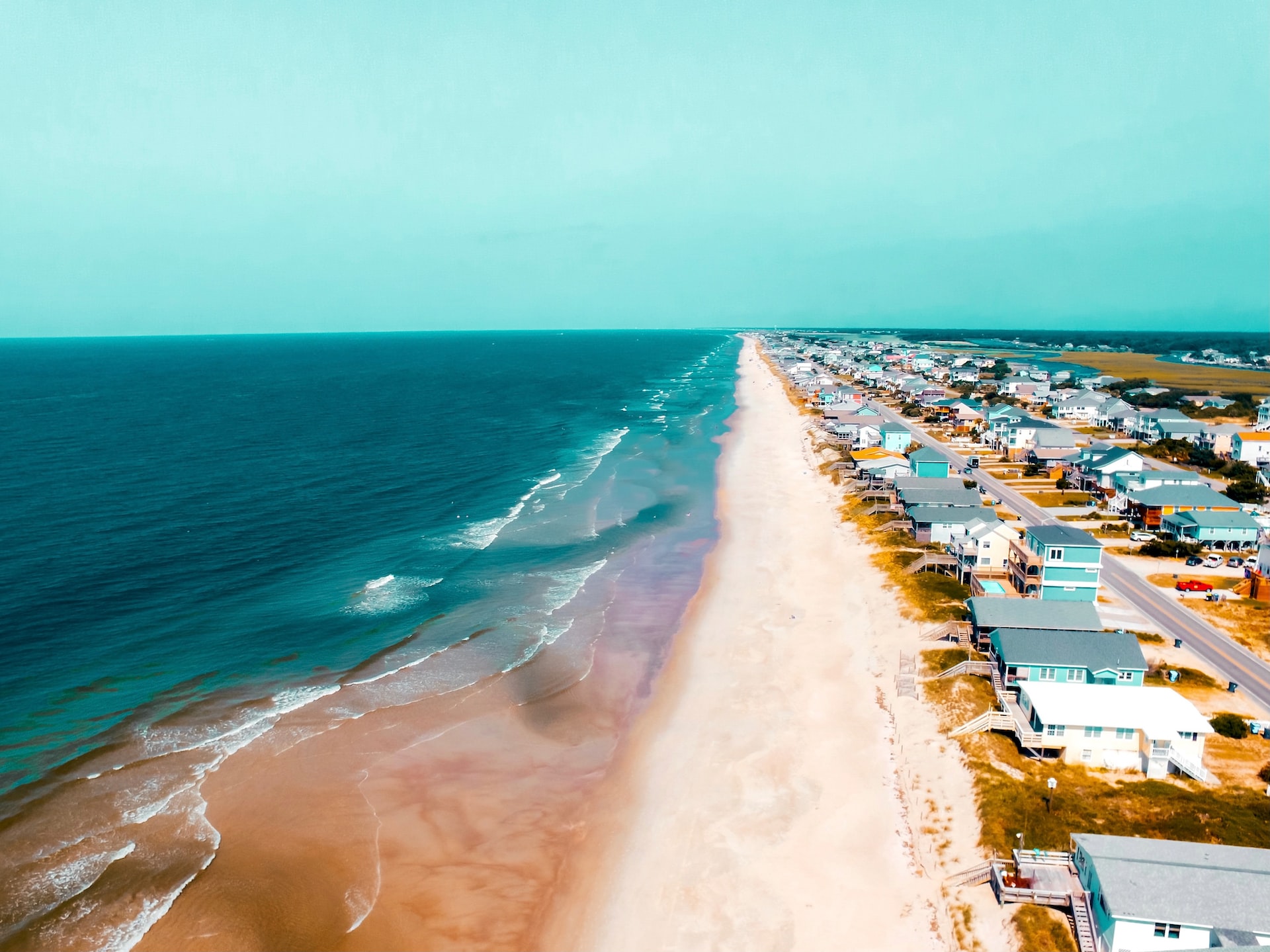 OUR TOWNS AND BEACHES No matter where you live now, or where you want to live next, variety is the key. With more than 85 miles of enticing North Carolina coastline, nine distinct regions, and hundreds of events and activities. North Carolina's Crystal Coast will satisfy the needs, wants and interests of even the most discriminating homeowner. In fact, you'll feel like you are on a permanent vacation.... Welcome to North Carolina's variety "Vacation Land"....the Crystal Coast!
CAPE LOOKOUT Explore 56 miles of pristine beach environment in the Cape Lookout National Seashore. Spend the day or the week. Climb the lighthouse. Bring your own tent to the campsites or stay at one of the rustic cabin rentals. Accessible only by boat, this national park is perfect for shell enthusiasts and fishermen.
​BEAUFORT Beaufort offers brilliant waterfront vistas, charming boutiques and delicious restaurants. Named by Travel + Leisure as "America's Favorite Town," this historic coastal community is filled with things to do for homeowners of all ages. Be sure to visit both the NC Maritime Museum and Watercraft Center as well as the Beaufort Historical site. Tours are available and many stop by Beaufort just to catch site of the wild horses across Taylors Creek.
​MOREHEAD CITY As the largest community of the Crystal Coast, Morehead City offers a charming waterfront downtown area with boutique shops and inviting restaurants. Family entertainment includes the NC Seafood Festival and Big Rock Fishing Tournament. You'll find numerous consignment shops – always fun to visit -- as well as most shops needed for daily living.
NEWPORT Newport is accessible by both highways 70 and 24 and features outstanding waterfront communities such as Bogue Watch and Bluewater. Several have direct access to water for your boating pleasures. Many farms – such as Garner's – make local shopping for fresh veggies and fruit available when you arrive in town.
ATLANTIC BEACH.....Enjoy a huge variety of beach sports, water sports, fishing, tours and excursion opportunities. Live oceanfront or enjoy sound side vistas. Dine at delectable seaside restaurants and eateries. The beach music festival – a local favorite -- is held in May. Don't forget to visit Fort Macon State Park.
PINE KNOLL SHORES With wide stretches of coastline, and impressive Maritime Forest, Pine Knoll Shores is the perfect beach homeowners' retreat. Relax in charming, private neighborhoods with numerous recreation opportunities or play a round of golf at the Crystal Coast Country Club. Visit, or better yet, volunteer at the North Carolina Aquarium.

SALTER PATH Salter Path offers a lifestyle that harks back more than a century. Property owners have easy access to both the beach and sound for recreation and relaxation. Stop by the seafood market or enjoy the fresh catch cooked up by skilled local chefs at one of the many restaurants.

EMERALD ISLE Emerald Isle is the largest town on Bogue Banks, offering over 12 miles of pristine beaches and incredible views of the Atlantic Ocean and Bogue Sound. Most homes are single family and recent zoning rules aim to keep it that way. Emerald Isle is the perfect beach town for rest, relaxation and retirement.
INDIAN BEACH The small coastal community of Indian Beach is located in the middle of Bogue Banks, between Atlantic Beach and Emerald Isle. Enjoy living in modern condominium complexes on both the ocean and the sound. Enjoy easy beach access, local seafood markets and restaurants.
WESTERN CRYSTAL COAST Encompassing Cape Carteret, Cedar Point, Swansboro, Stella and Peletier, the Western Crystal Coast region offers a wealth of waterfront neighborhoods with direct access to Bogue Sound for your boating pleasures. Hwy 58 also offer direct access to the beaches at Emerald Isle.
HARKERS ISLAND Located just east of Beaufort, scenic Harkers Island is a popular residential community for anyone who loves to fish and also wants a MUCH quieter lifestyle. Bring your boat for some of the finest water sport available anywhere. Home of the Core Sound Waterfowl and History Museum.
DOWN EAST Find picturesque scenery and relaxing waterfront communities such as Bettie, Otway, Smyrna, Marshallburg, Gloucester, Straits, Williston, Davis, Cedar Island and Atlantic. All known as Down East. Travel this way on HWY 70 to catch the ferry to Ocracoke! The area's salt marshes are perfect for birdwatching, and the waters provide great clamming areas. Communities here trace their lineage back to the 1700s and some of the customs and speech date that far back, as well. Can you say, "Hoi Toider?"